Overview
PlayerAuctions sends out disbursements to sellers once per day on business days, generally during the hours of 7pm to 10pm PST. 
Processing Period
(business days)

2-3

1-2

< 1

< 1
The processing period for disbursement begins once an order is successfully closed. Our system will display an estimated disbursement time (EDT) in the account details page, however please note that this is only an estimated time.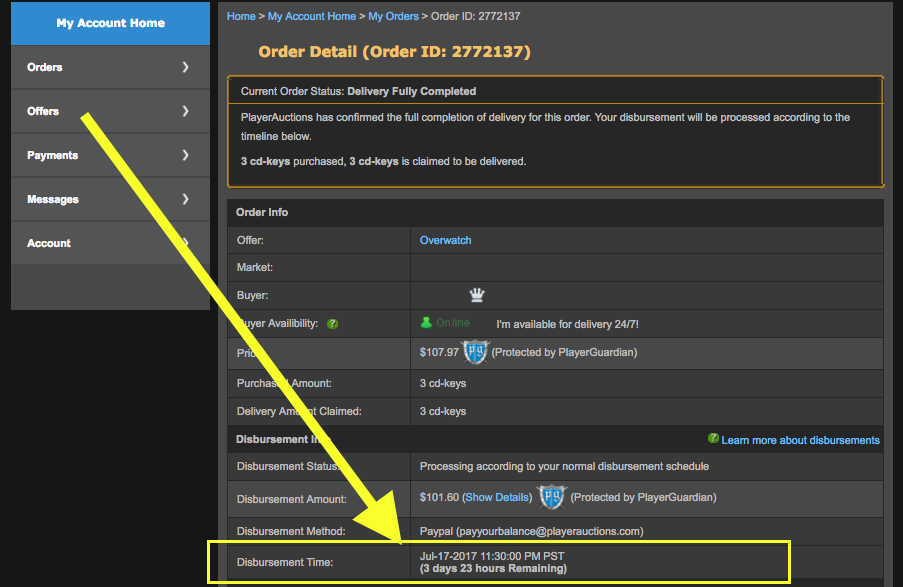 It has been more than 3 days, how long is it going to take?
The most common reasons for a disbursement taking more than 3 days are:
You sold a game account, and offered free insurance. 
If you offered free insurance when you created your for-sale offer, then your disbursement will be held until the free insurance period expires (7, 14, or 30 days, depending on the period that you specified when creating the for-sale offer).
Your buyer is disputing the order.
If the buyer claims that you did not deliver the product, that you delivered a product that was not as-described, or that you reclaimed the product, then we will hold your disbursement until the dispute is resolved. 
In order to resolve this type of issue swiftly, we advise sellers to message the buyer directly via our onsite messaging system, and reach an agreement. This will be the fastest way for you to get things sorted with your disbursement.
If you are unable to reach an agreement with the buyer, the case will be escalated to our Dispute Resolution team, and they will follow up with you directly.