If you're experiencing an issue with a PlayerAuctions Hidden Offer, then these helpful hints could guide you in the right direction.
Here are some general reasons why your offer isn't displaying in the offer listing page.
Penalties
Check if your Penalties is over the threshold of your seller level
| | | | | | | |
| --- | --- | --- | --- | --- | --- | --- |
| Seller Level | Lv 5 | Lv 4 | Lv 3 | Lv 2 | Lv 1 | Lv 0 |
| Threshold Penalty before hiding offer | $-9999 | $-150 | $-100 | $-50 | $-10 | $0 |
How to pay a penalty?
There are 3 ways to pay a penalty:
If you have a PayPal account, please send your payment to hkpaypal@playerauctions.com
If you have a Skrill account, please send your payment to moneybooker@playerauctions.com
If you have any pending disbursements, we might deduct the total amount of the penalty once you provide a go signal.
Offer Policy Violations
It includes listing a product under the wrong category, putting your direct contact information in your offer, and so on.
Check your inbox to see if you received the email from our Risk Management team and reply to follow up.
Hid Offer Yourself
If you hide the offer, then it won't display in offer listing page.
Check your hidden offers and display them.
Offer Not Created Successfully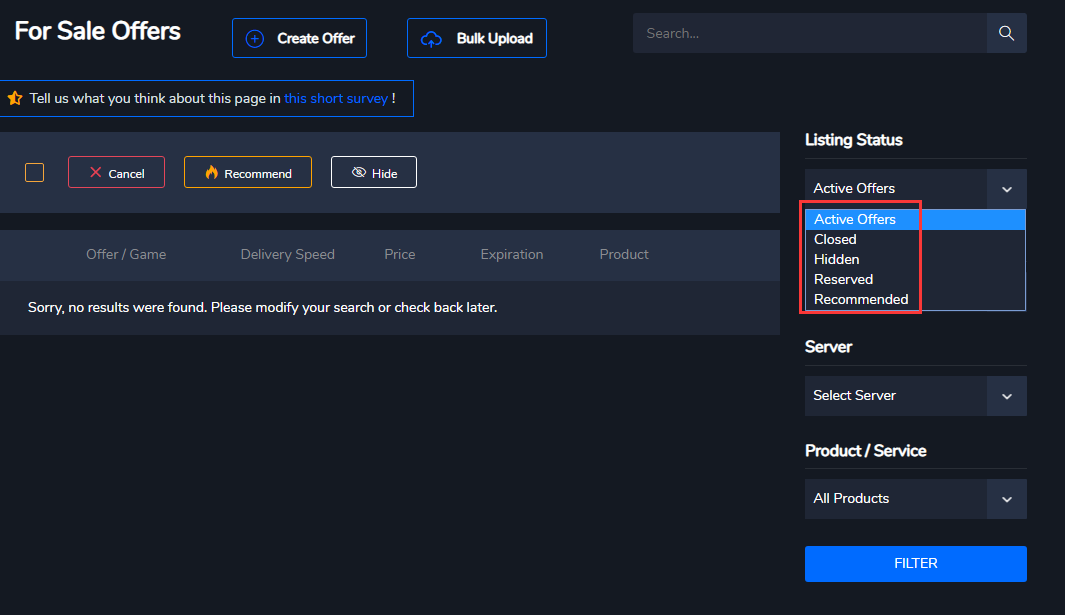 If you can't find the offer in any of the filters, it means that it wasn't created successfully.
Please try to re-create an offer for your product. Here are some troubleshooting steps to follow:
Try a different browser
Turn off any ad-blockers
Avoid using VPN's or proxies
Clear your cache and cookies
List your offer from a PC/laptop instead of a mobile device
If none of the above does the trick, then there might be a bug. Please contact us with your registered email address and provide the offer ID, if applicable.