PlayerAuctions boasts of a secure system wherein we protect sellers from chargebacks and payment fraud. Here, you can find information on how transactions work on our website.
How transactions work on PlayerAuctions:
Buyer choose an offer and sends payment to PlayerAuctions
PlayerAuctions starts payment verification process
Verifying Payment
Once the payment is verified, PlayerAuctions will send an email with the Order ID to the seller
Pending Delivery
Seller delivers product and confirms delivery on the order page
Delivery Pending Buyer Confirmation
Buyer confirms full delivery
Delivery Fully Completed
PlayerAuctions disburse the money to seller
Not clear? Here is more detailed information.
Register an account to become a seller and start selling
Registration is free. How can I register a Seller account?
Posting offers is free. Go to create an offer for the product you wish to sell on our website.
After filling in all the fields in offer creation page, click the button 'Create New Offer' to submit your page and you will receive an offer ID.

I can't create an offer, got error to 'select market'.
Buyer creates an Order and sends the payment to us
After the offer is created, you will just need to wait for a buyer to find it and create an order.
PlayerAuctions Verify Payment
Once we receive the payment the payment verification process will be started. Our compliance team will review the payment that the buyer sent to us.
Make and confirm delivery.
Once the payment is verified, PlayerAuctions will send an email to you to check the status of your order through the website.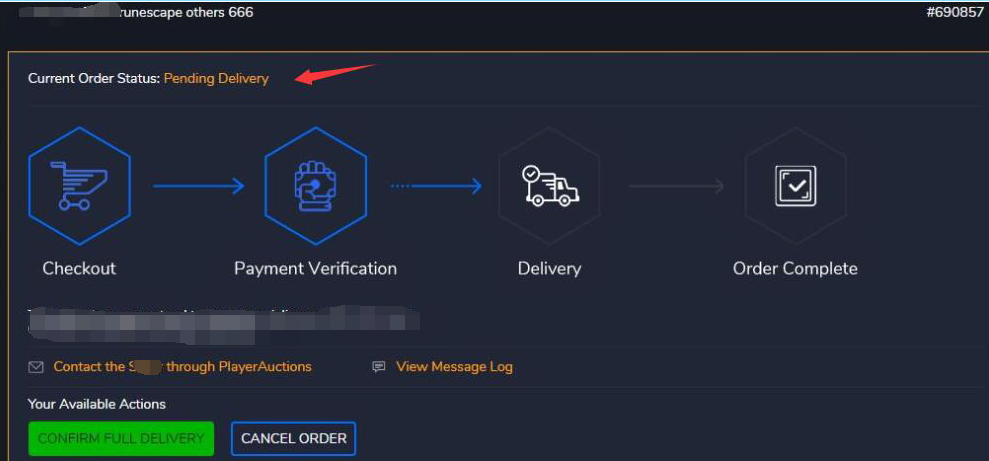 Make sure the order status reads 'Pending Delivery' before you deliver the currency/items in-game.
For accounts, you will fill in a form on the website in order to submit the account details for inspection. For items, you will see the delivery details and notes of the buyer on the website.
Please note: For game accounts, you need to forward it to PlayerAuctions for inspection first. PlayerAuctions will then forward it to the buyer.
How do I deliver account information to buyer?
After you confirm delivery, the buyer will also confirm the delivery.
What if the buyer doesn't confirm delivery?
What if I have made delivery but the buyer claims otherwise?
The payment will be "Available" and can be withdrawn on the 'My Balance' page.
When can I withdraw and when will I get disbursed after withdrew the balance?